Projects address immediate needs on public lands impacted by growth
Envision Recreation in Balance Task Force members are working on multiple projects that address recreation impacts on public lands in Chaffee County.
The Task Force met monthly for more than a year to develop a mobile app for data collection and campsite monitoring and created projects in response to the data. 
The work includes dispersed campsite containment, campfire ring deconstruction, educational signage to share Leave No Trace ethics, and human waste management in popular recreation areas such as Horn Fork Basin, Fourmile and Raspberry Gulch. Many of the projects are supported by Chaffee Common Ground grant funding.
Chuck Cichowitz, a backpacking outfitter in Horn Fork Basin and owner of Noah's Ark Rafting & Adventure Co., leads a stewardship project in the Collegiate Peaks Wilderness Area.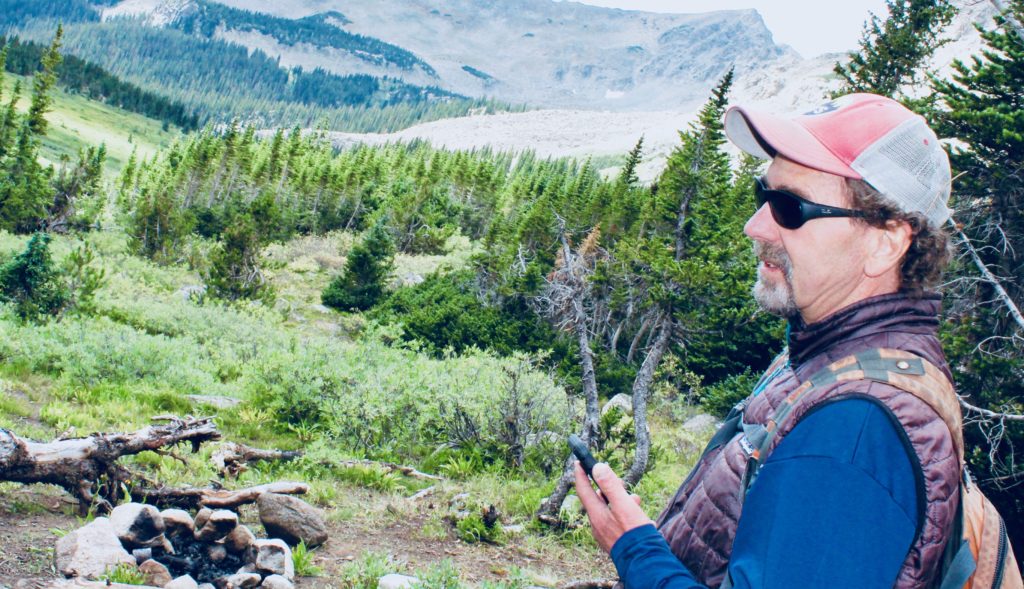 "Over many years, I have seen the proliferation of over-sized campfire rings, spreading social trails, and damage to irreplaceable krumholtz fir trees at treeline, where limbs are broken off for an evening's fire," Cichowitz said. The Envision Healthy Horn Fork project works with the US Forest Service and Greater Arkansas River Nature Association to map and prioritize stewardship work in the basin. They have remediated campsites and social trails that threaten resources while encouraging recreation use where it can be accommodated.
Using a the Campsite Collector App, Task Force volunteers in one season geotagged more than 1,100 campfire rings and 14 miles of social trails in the county. Thirty percent of the sites had more than a gallon of trash or human waste, and more than 100 football fields' worth of impacted ground soil were recorded. 
In response, a stewardship effort by the Southwest Conservation Corps erects buck-and-rail fencing around sites to limit their expansion and the associated plant degradation and soil erosion into waterways. The project supports community wildfire risk reduction by dismantling large campfire rings and thinning thick stands of lodgepole pine to create fence material.
Friends of Fourmile, a chapter of the Greater Arkansas River Nature Association, designed and installed or updated 30 entry-point kiosks and information panels in the Fourmile Recreation Area. The new education is meant to improve visitor behavior on roads and trails by sharing Leave No Trace ethics. Two popular hand-out brochures were revised and reprinted.
Fourmile has more than 200 miles of system roads, 27 miles of ATV trails, more than 35 miles of hiking and biking singletrack, and hundreds of dispersed campsites. New information includes proper campfire practices, fire bans and how to report illegal fires, suggestions to pack out human waste, new maps with appropriate camp locations, and much more.
Task Force members also created Chaffee Rec Adopters for camping areas that is modeled around Adopt-A-Trail and the long-running Friends of Fourmile. Groups of volunteers like the Browns Creek Alliance monitor, clean and in other ways steward popular recreation areas such as Raspberry Gulch in Nathrop.
Contact info@envisionchaffeecounty.org to join the Recreation Task Force or to get connected to the many different local organizations leading these and other stewardship efforts on Chaffee County's public lands.