AHRA beats seasonal staffing challenges by hiring Salida High School students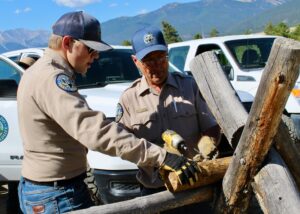 In its third summer, the Chaffee Recreation Rangers program was created to add seasonal staff to help manage growing visitation on public lands.
The Rangers work for local offices of the U.S. Forest Service, Bureau of Land Management (BLM) and Colorado Parks and Wildlife — the overseeing agency of the Arkansas Headwaters Recreation Area (AHRA), a state park spanning 152 miles along the Arkansas River.
The Rangers each have contact with hundreds of visitors through the summer months, offering helpful information about regulations and outdoor ethics. They clean and contain campsites, install or maintain signs and ensure safe campfires through patrols.
The program started in 2021 with four seasonal staff working on National Forest lands under the Salida Ranger District. The next year, staff doubled as new funding allowed the addition of two rangers each with the BLM and the AHRA.
Like many local employers, land managers are challenged to fill positions because of a lack of housing. To hire four rangers this year, the AHRA turned to the Colorado Mountain College (CMC) internship program, offering well-paid opportunities for young adults to explore a natural resources career path before going off to college or entering the workforce.
"It's a unique experience, to be a high schooler working as a park ranger with responsibilities," said Abram Jones, who is entering his senior year at Salida High School. He is among three students working in the program this summer.
With four positions to fill this year, the AHRA approached the program with the help of CMC to bring in staff who already had housing, said Corrine Servis, AHRA Operations Manager. Then the program was designed to help the young adults explore a potential career path and gain life skills.
"We train them, and we also let them do more than their job duties," Servis said. "They go on ride alongs with wildlife officers. We get them on the water. We exposed them to the field, to help them see if natural resources is a potential career path."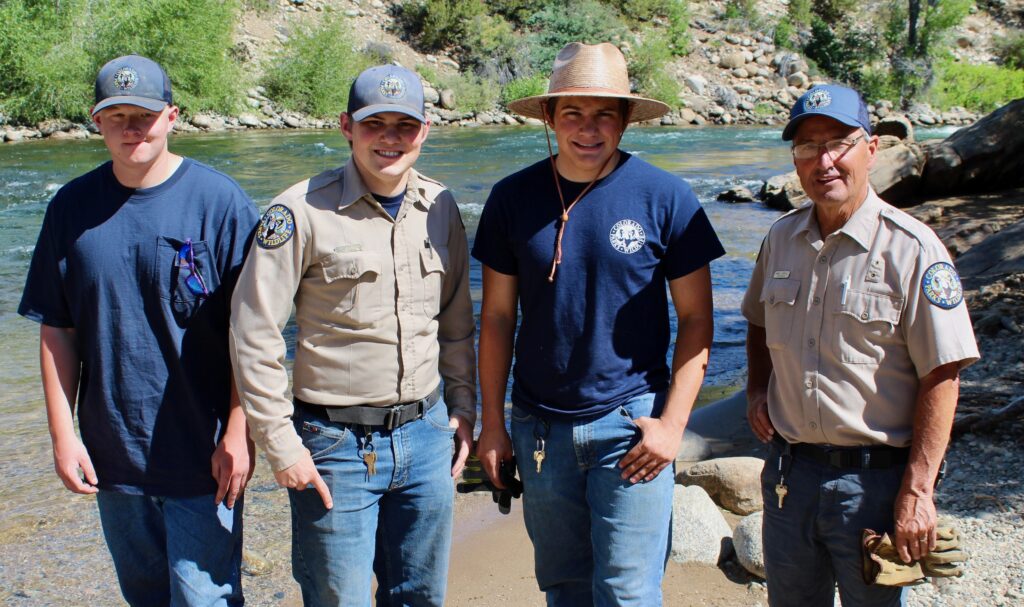 Being a Ranger also means learning how to strike up a conversation with a stranger, how to take care of work vehicles, how to handle tools, and how to work independently and make decisions.
Abram's older brother, Brandt Jones, graduated from Salida High School this spring and is headed to flight school soon. As a passionate angler, boater and hiker, his eye is on a career in natural resources management, possibly as an Alaskan wildlife trooper.
With one more year as a Spartan to complete, Luke Prewitt found the job through a CMC business class. He is still considering a career in finance but now has added pubic lands management to his list of future maybe's.
All three young men said they will return to work as rangers next summer, if possible.
Rounding out the AHRA Rangers staff is Mike Orrill, a retired church pastor of 35 years, who wanted to be a park ranger as a kid. Working alongside high schoolers is a kick, he said. "They tell jokes and funny stories and they work hard. They took on a lot of responsibility and are getting the job done."
Indeed. So far this summer, the crew has had contact with more than a thousand visitors. Their main duty is to monitor dispersed campsites, informing campers of requirements to use a portable toilet and fire pan, and adhere to the 14-day stay limit. And they've all picked up a lot of trash.
Not a day has gone by that I have not picked up at least one full bag. If this program did not happen, by the end of the summer the campsites would be trashed, with a lot of the stuff we don't want to see in these areas along the river."

AHRA Ranger Mike Orrill
The Rangers program was developed under the Chaffee County Outdoor Recreation Management Plan and the Chaffee Recreation Council, to address growth in dispersed camping on all lands in the county, and to ensure that high-quality, low-impact opportunities are available into the future.
Funding has been provided by the Chaffee County Visitors Bureau, Chaffee Common Ground and Chaffee County Government. The agencies manage staff and supply vehicles and equipment.