New management at popular high alpine lake to protect natural resources and improve hiking experience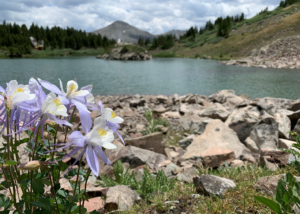 When does a trail to a high alpine lake become loved to death? That is the question at Lost Lake, one of Chaffee County's most treasured gems.
At 11,800 feet in elevation, the destination gained popularity once promoted online and in visitors' guides as an easy trek to a tranquil, emerald-green lake. "Elevation was easy and it was so rewarding at the lake!" says a recent post on All Trails. "A hell of a view," says another, and, "Very doable. Gorgeous!" from yet another.
The trailhead on Cottonwood Pass is only 18 miles from the town of Buena Vista. As the crow files, it is barely more than a mile to the lake yet the route wanders through steep wetlands that slowly wash away with each boot imprint in the squishy, muddy ground.
Land managers have choices — to close an area that is consistently damaged by users, or to manage it for increased visitation. The Salida Ranger District is choosing the latter at Lost Lake, based on a recent environmental analysis and resulting decision signed last year.
The U.S. Forest Service will reroute the trail out of the wetlands and onto dry ground. At the same time, safer parking and signage at a new trailhead just downhill of the current access will be provided.
The trail to Lost Lake is a non-system route that does not have proper placement or sustainable design, explains Salida Ranger District Trails Manager Dani Cook, who is leading the reconstruction project. "It is a social trail created by users that continues to widen, braid and follow the path of least resistance." The behavior continues to cause natural resource damage and threatens recreational opportunities moving forward, she said.
We have soil and sediment loss, damaged and decaying vegetation and additional negative impacts to the wildlife habitat and watershed."

Salida Ranger District Trails Manager Dani Cook
Parking along the side of County Road 306 — a busy access route to Gunnison County now that the pass is paved — is problematic because there is not enough room to park cars. Hikers have to cross the highway to access the trailhead, and new social trails have popped up as people walk directly from their cars through the woods to the trail.
The project takes place this summer and fall. The new trail will have a mellow, family-friendly ascent with scenic views and educational opportunities such as interpretive information on the surrounding area. More details:
The system route will travel 1.5 miles to the lake, much of which is already existing as an administrative road.
Roughly half a mile of new trail will be constructed to complete the final approach to the lake.
A new parking lot with 20 spots will be built off the main highway in a safer location.
Once the project is done, the existing non-system route will be closed. Restoration will include wildlife habitat improvements, erosion control devices and closure of the original area to the public.
Funding is from two state grant programs:
Colorado Department of Public Health and Environment: A $79,830 grant from the Upper Arkansas River- California Gulch Natural Resource Damages Fund pays for material costs, such as parking lot aggregate, culverts and signage; and 4 weeks of Southwest Conservation Corps crews, a weekend project with Volunteers for Outdoor Colorado (August 12-14), and earthwork for parking lot construction.
Colorado Parks and Wildlife: A Non-Motorized Trails Grant supports USFS trail crew costs for project implementation, including new trail construction, signage installation, volunteer oversight and restoration. 
Help with planning, reconstruction and long-term monitoring and maintenance is offered by:
Volunteers for Outdoor Colorado
Southwest Conservations Corps
Upper Arkansas Wilderness Volunteers, a chapter of GARNA
The project at Lost Lake is identified in the Chaffee County Outdoor Recreation Management Plan as a priority opportunity to enhance user experiences on public lands and address the impacts of growth. Additional projects the Salida Ranger District is working on include renovating the Monarch Park Campground and rerouting the top portion of the Colorado Trail in South Fooses Creek. View the plan today!