Two staff members are helping to initiate exciting programs outlined in the Chaffee County Outdoor Recreation Management Plan — to maintain healthy public lands, the quality of outdoor experiences, and the economic benefits of recreation tourism.
Welcome Jessica and Jennifer!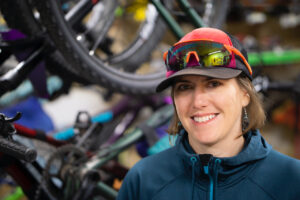 Jessica Downing joins Chaffee Recreation Adopters as a program coordinator, to help outdoor enthusiasts care for all the lands they love as the county experiences fast-paced growth in outdoor use. Chaffee Rec Adopters is led by the Greater Arkansas River Nature Association (GARNA) and Envision Chaffee County in collaboration with towns, county, state and federal agencies.
Jessica has lived in Chaffee County since 2017 and in Colorado most of her life, growing up in the Roaring Fork Valley. She has a degree in Business and Public Relations from Colorado State and is currently in a graduate program at Northern Arizona University for Community Planning. She is a certified mountain biking coach and spends her free time biking, skiing, river surfing and spending time doing anything outdoors with her family.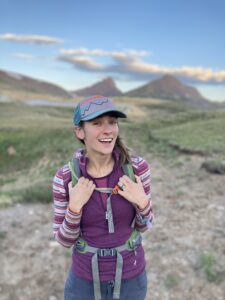 Jennifer Fenwick joins the community with a focus on coordinating the recreation plan's strategy to offer clean, quality camping opportunities across all lands. The new, collaboratively funded position is managed by the National Forest Foundation and will support the Bureau of Land Management, U.S. Forest Service, Colorado Parks and Wildlife, Colorado State Land Board, towns and private landowners to help implement new camping strategies.
Jennifer has a master's degree in Environmental Management with a concentration in Integrative and Public Land Management from Western Colorado University. She earned a bachelor's degree in biology from Colorado State University. She formerly worked as a recreation forestry technician and project manager in Gunnison County, where she managed the designation of dispersed campsites across 100,000 acres in the Gunnison National Forest. She is a through-hiker, backcountry skier and trail runner.
Both GARNA and NFF are members of the Chaffee Recreation Council, which is facilitated by Envision Chaffee County to guide initiatives outlined in the recreation management plan. In addition to stewardship and sustainable camping, plan initiatives:
The new positions are funded by Great Outdoors Colorado (GOCO), in coordination with Envision and Chaffee County Government, with additional financial support from the Chaffee County Visitors Bureau.