ChaffeeProvides.org connects consumers to producers, organizations and food banks in Chaffee County
A new website at ChaffeeProvides.org at its essence is a local food guide that is much more compelling than a list of names and numbers.
"We feature ranchers and farmers to connect them, their stories and their products to local consumers."

Envision Chaffee County Outreach Coordinator Kim Marquis
Envision partnered with Guidestone Colorado to create the online directory with grant funding from the Chaffee County Community Foundation (CCCF) and a Chaffee Common Ground mini-grant.
ChaffeeProvides.org helps consumers buy locally and enjoy knowing who and where their food comes from. The website is an easy information access point to find ranchers and farmers selling their products, as well as brick-and-mortar markets and restaurants, and food banks that provide resources to community members.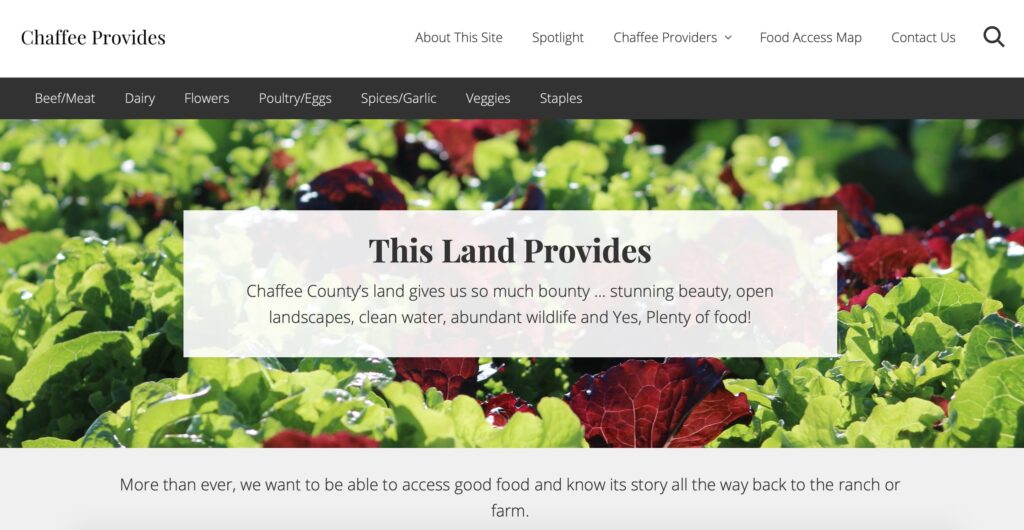 Listings that are free for agricultural producers and other businesses include contact information and web-links so consumers can directly do business with them.
Supporting local agriculture, even with the smallest purchase, helps keep this place intact. Productive land provides our stunning views, water quality and wildlife habitat, and protects valuable lands from over-development. An interactive map and search functions connect website users to these producers, organizations and food banks.
"CCCF's Food Access Cohort grant program, hosted through a series of meetings in 2020, was designed to help organizations work together to increase coordination and ensure all Chaffee families and individuals have access to nutritious food," said Andrea Coen, Executive Director of Guidestone Colorado.
The website was conceived last spring, when grocery store shelves were laid bare because of pandemic-related supply bottlenecks in labor and transportation. Virus outbreaks at meat processing plants slowed the beef supply chain across the state, and restaurants had to shut their doors or drastically change operations for long periods of time. Simultaneously, community food needs and interest in local food products increased.
Food security felt vulnerable back then but there are fresh eggs, cheese, milk and honey as well as vegetables, lamb, poultry, pork and enough beef to feed a small country being grown and raised right here in our backyards. This new website lets everyone access and buy it!