Face-to-face interactions promote outdoor ethics and rule following as patrol program grows
The Chaffee Recreation Rangers program is in full swing this summer with eight seasonal full-time staff patrolling public lands in Chaffee County.
The program started in 2021 under the Chaffee Recreation Council to address soaring visitation as public lands budgets remained flat.
Lia Hovezak is a new ranger with the Arkansas Headwaters Recreation Area (AHRA), her position made possible by funding from the Chaffee County Visitors Bureau. Her main job is to monitor dispersed camping and educate visitors along the river corridor in the State Park.
"I talk to every person I see," she said, frequently informing them of rules, such as the requirement to use a portable toilet and fire pan when camping along the river. "I let them know if they're not doing everything right, and what the right thing to do is, because usually they just don't know."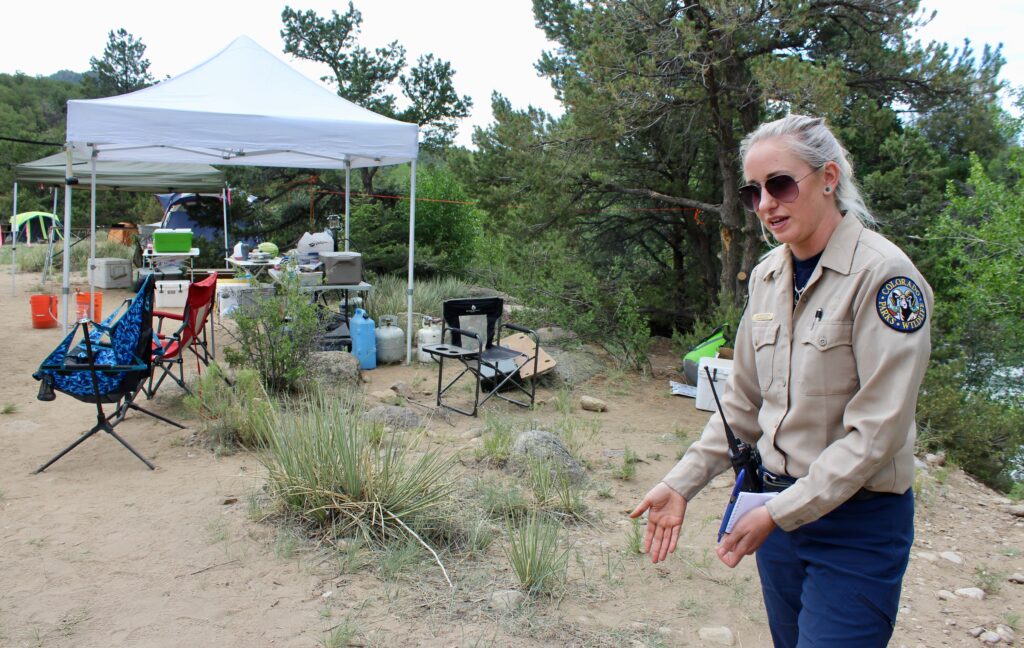 Human waste and trash disposal is a hot topic, according to Hovezak and other rangers, as well as how to safely have campfires, the requirement to adhere to the 14-day stay limit, and where to park and set up camp.
"A lot of visitors are surprised to learn they should not park and camp on live vegetation," said Bryan Malek, a Recreation Ranger with the Bureau of Land Management (BLM). "They drive past denuded ground and farther into the forest looking for a fresh spot to camp on, destroying more vegetation that won't grow back."
The Royal Gorge Filed Office, whose jurisdiction includes BLM public lands in Chaffee County, estimates a 42% increase in visitation since the start of the pandemic.
In conversations about ethics and rules, Malek said that some visitors initially push back but can become more willing to comply once they understand that regulations exist to protect resource values.
That kind of back and forth discussion is more effective than signs, according to Glenn Cottone, a senior ranger with the AHRA. "One-on-one education is best, and funding for this program is providing that opportunity."
Within the AHRA, the two new rangers are focused on patrolling dispersed campsites, allowing other staff more time to concentrate their efforts on boat ramps, boating safety and managing fee-based campgrounds, Cottone said.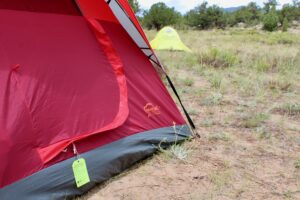 The program started with a two-year grant from the Chaffee Common Ground Fund awarded to the U.S. Forest Service Salida Ranger District to manage four rangers. Additional funding this year from the visitor's bureau paid for four more. The agencies recruit, hire, train and manage staff and supply vehicles and equipment.
Hovezak and Malek both said that blatant rule-breaking happens but is not the norm. Hovezak's worst cleanup involved a collapsed eight-person tent filled with trash — until someone left garbage bags full of human feces inside the vault toilet room at Big Bend.
Malek said he spends a lot of time on BLM lands enforcing stay limits. If the camper is not present, he leaves a tent tag and informational flyer. The flyer explains the 14-day limit and that property cannot be left unattended for more than 48 hours. The materials let visitors know that that personnel are in the area, he said. "If they don't see you then in their mind you don't exist."
If someone appears to be residing instead of camping on public lands and ignores tent tags or in-person warnings, it is reported to law enforcement. The BLM added a Salida-based law enforcement officer this summer.
The Rec Rangers last year contacted 1,000 visitors, installed nearly 3,500 feet of buck-and-rail fence, maintained or installed more than 270 signs, and dismantled 125 campfire rings between April and October.