3,136 forested acres have been treated to-date, with about 21,000 acres in the planning pipeline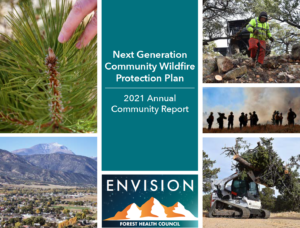 In its latest annual report, the Envision Forest Health Council reports $19 million raised to-date, as well as more than 1,600 community members taking action to implement Chaffee County's Community Wildfire Protection Plan (CWPP).
The plan sets a course for improving wildfire resiliency through strategic forest treatments and additional actions. It was updated in 2020 using computer modeling technology to identify the right acres to treat, to reduce wildfire threat and protect assets like water supply and infrastructure. At that time, the Forest Health Council formed to ensure the plan's goals are implemented. The council currently has more than 40 members.
The council reports 3,136 acres treated to-date, plus about 21,000 acres in the pipeline. To fund this work, Forest Health Council partners have raised $19 million, including $3.2 million from the Chaffee Common Ground sales tax measure and state- and federal-level grants and investments.
While many think wildfire is a public lands issue, one-third of the county's Treatment Priority Areas are privately owned. The Forest Health Council has organized work on these 10,000 acres, engaging more than 800 homeowners to reduce risk by removing fuels on their properties. Private citizen involvement is highlighted in this year's report because it is imperative to implement the plan.
"The plan is like a big, heavy flywheel that is starting to turn because the community is putting its collective shoulder to the wheel," Envision Co-lead Cindy Williams said, noting that programs like Chaffee Chips and Chaffee Treats are outlined in the report.
The report outlines challenges, such as forester and contractor capacity to complete treatments in a timely manner. Like many communities across the American West, Chaffee County faces the threat of high wildfire danger due to decades of fire suppression, drought and ensuing insect infestations that caused forests to decline into poor health.
Envision facilitates and tracks Forest Health Council activities and communicates progress to the community.