More than 2 dozen new signs are placed around Chaffee County to alert residents and visitors of fire danger levels and fire restrictions
Envision worked with the U.S. Forest Service Salida Ranger District to place six Smokey Bear signs in visible locations, from Trout Creek Pass to Monarch Pass to the Browns Creek Recreation Area, one of the county's busiest dispersed camping areas.
Our neighborhood is adjacent to this dispersed camping, and so we have heightened concerns about fires that might get away from a camper and accidentally start a wildfire."

Rick Berckefeldt, spokesman for Browns Creek Alliance
Mostly comprised of Mesa Antero homeowners, the Chaffee Rec Adopters group has cleaned up approximately 160 campsites and more than 200 campfire rings in the area for the past few years. "We are very interested in making sure that the campers not only have a good experience but also are aware of fire restrictions that might be going on," Berckefeldt said.
Smokey the Bear is the longest-running advertising campaign in American history, created by the Forest Service in 1944 as a symbol of forest fire prevention. Nine out of ten wildfires are caused by people, according to the agency.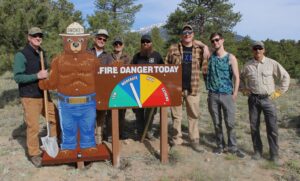 The Smokey Bear signs were funded by the Chaffee County Visitors Bureau. They are being installed by Forest Service staff with help from Chaffee Rec Adopters. In June, signs were erected on County Road 272 on the way to Browns Creek, in the Chalk Creek drainage and on Trout Creek Pass. Three more will be placed in the southern part of the county once approval is received from the Colorado Department of Transportation.
Chaffee County Fire Protection District also has placed new fire danger signs at its stations throughout the county. The signs that are visible from highways and county roads near both Buena Vista and Poncha Springs were funded in-part by a Chaffee Common Ground mini-grant to the fire department.
Members of the Game Trail Adopters Group worked with Chaffee Fire to order a sign to place northwest of Buena Vista along County Road 365, which is the access to trailheads, trails and about 80 campsites in the North Cottonwood Creek drainage. Members of the Game Trail HOA paid for the sign, and a homeowner agreed to have it placed on their property along the county road this summer.
Smaller educational signs also have been placed at each of more than a dozen designated campsite in the new Chubb Park camping area developed by the Colorado State Land Board in the Fourmile Recreation Area. The signs placed next to each site's metal campfire ring flip open to indicate when it is illegal to have a campfire. The larger Smokey Bear and Chaffee Fire signs include a rider that indicates when fire bans are in place.
High concern among residents about errant and illegal campfires was highlighted in the Chaffee Wildfire Survey administered by Envision in 2019. Survey respondents cited recreation use as among the highest threat to forest health, second only to insect infestations that have decimated stands of trees around the state.
Consistent with these concerns, fire ban enforcement and visitor education ranked second-highest among survey respondent priorities for Common Ground Fund investments. Signage contributes to objectives outlined in the Chaffee Outdoor Recreation Management Plan, by promoting fire safety education to the growing number of new residents and visitors.
Additional initiatives by partners of the Chaffee Recreation Council include continuation of the Adventure by Nature Pledge, a marketing campaign by the Chaffee County Visitors Bureau that asks visitors to Stay on the trail, Be respectful, Recreate responsibly and Leave no trace. The outreach includes short videos that highlight campfire safety information.
The Chaffee Rec Rangers program also continues this summer with staff members patrolling public lands and encouraging good visitor ethics through personalized outdoor education.