Bear Creek homeowner shares Decker Fire evacuation experience
On Oct. 2, 2019, the Decker Fire loomed over Methodist Mountain as Ric Speaker stood in his driveway, listening to a Fremont County sheriff deputy trying to convince him to evacuate. His wife, Wendy, and their dog Bisou were planning to leave the Bear Creek home that day.
"Mr. Speaker, I really think you should consider leaving," Ric recalled the deputy saying, seconds before they heard an explosion. The propane tank at the home across the street had blown up.
Speaker left. He and his wife were evacuated for 19 days.
The nine previous days had been a whirlwind of preparations for the potential arrival of the fire.
Ric had been in Denver visiting his grandkids on Sept. 23 when he received a call from Salida Fire Department Chief Doug Bess, informing him that lightning had sparked a wildfire in the national forest and an incident was in progress. He immediately left the city, stopping at Home Depot on the way to buy plastic totes with lids.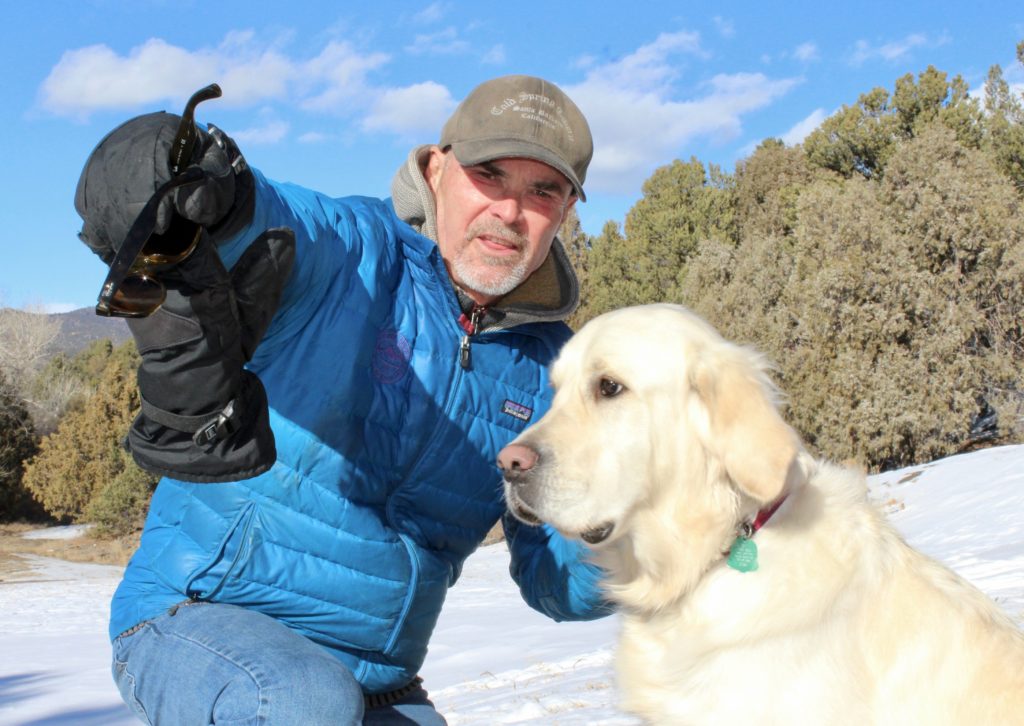 Arriving home in record time, he began walking through rooms taking pictures and videos with his cell phone. A lifetime of memories with two kids, a 44-year marriage, and a four-decade career as an entrepreneur in healthcare software were stored in the custom home the couple had lived in for less than three years. Feeling shocked and in denial about the situation, he recorded everything from the carefully chosen art on the walls to paired socks tucked inside drawers and shirts hanging in the closets.
He then started consolidating and packing items into the plastic totes — photographs of his kids when they were young; pictures of the couple's prom night they attended together as high school sweethearts; heirloom jewelry and artifacts they found at second-hand stores while traveling. Ric struggled to put a value on items and make decisions under pressure.
That night, the wildfire jumped the ridge of Methodist Mountain and began making its inevitable run toward Bear Creek.
The next day, his wife still in Denver, Ric retrieved a ladder and chainsaw from the barn and started trimming tree branches close to the house. He was schlepping garden hoses and connecting them to spigots when the Forest Service arrived.
The Speakers had done no mitigation work on the property. One decision Ric had made was to install a cement-shingle, fire resistant roof on the log home. The fire personnel suggested removing three large trees close to the house. They were felled and the logs placed away from the structure.
The next few days grew progressively more chaotic. Fire crews installed sprinklers behind the barn, where a cord of firewood and leftover lumber from the home's construction was piled three feet high.
Crews connected the gas-powered sprinkler system to the creek and property pond, where they also collected water to fight the fire. Three or four helicopters circled overhead for hours, arriving one at a time and splashing a cabled bucket into the pond before carrying the water away to drop on the advancing flames.
Wendy arrived home from Denver and began baking dozens of batches of cookies to share with fire crews staged on the road and lower part of the couple's property. Emergency vehicles zoomed up and down the gravel road at all hours. The insurance company arrived with a crew that installed more sprinklers around the house and a truck-sized water bladder just outside the front door. One day Bisou, a golden retriever, became so anxious that she bolted into the woods but was found four panicky hours later.
The smoke was terrible during the day. They curtailed their daily neighborhood hikes or did them elsewhere and purchased two air cleaners for the living room and bedroom. At night, they would stand on their deck and gaze at the spot fires spread out across the towering mountain to the west. "We were watching those orange spots come down the mountain and we thought, 'We are next'," Ric said.
Dozens of trips to a downtown Salida storage unit were made and a car was moved off the property. Eventually, the couple had their remaining two vehicles filled with gas, the dog food packed, and they were ready to leave. That's when Ric found himself standing in his driveway contemplating whether he should go, too.
In the end, the fire came within a quarter of a mile but the Speakers' home and property were not damaged. Just up the road, denuded trees stand stick-like and dead, and the ground is blackened and bare. Ric is deeply unnerved when he visits the scene. The house across the street was a total loss.
Ric is immensely thankful for the firefighters, choking up a bit as he contemplates what could have happened. "We were not prepared," he said. "We had over a week but it is random, where lightning will strike, and there are so many variables that are unpredictable."
Those plastic totes are back in the basement but they are still packed. Here are suggestions Ric makes for homeowners to do immediately, to be "ready" for a wildfire:
— Photograph all rooms and possessions of value; have valuables assessed
— Store memorabilia in a central location that is transportable
— Assess what is replaceable and what is not, both inside and outside your home
— Assess your house perimeter for fire abatement, trimming low-hanging branches, brush and ground fuels
— Develop a relationship (with friends or a motel) for emergency lodging
— Renew insurance for firefighting services
— Review your exit strategy and check with neighbors who may need assistance
— Inventory face masks, water hoses, clothing, prescription and food needs in case of evacuation
— Consider roofing and outside wall materials for flammability
If you live in a wildfire zone, "readiness" steps should be completed well before a wildfire incident occurs. Review the following suggestions for two additional steps in the "Ready, Set, Go!" evacuation plan provided by the International Association of Fire Chiefs.